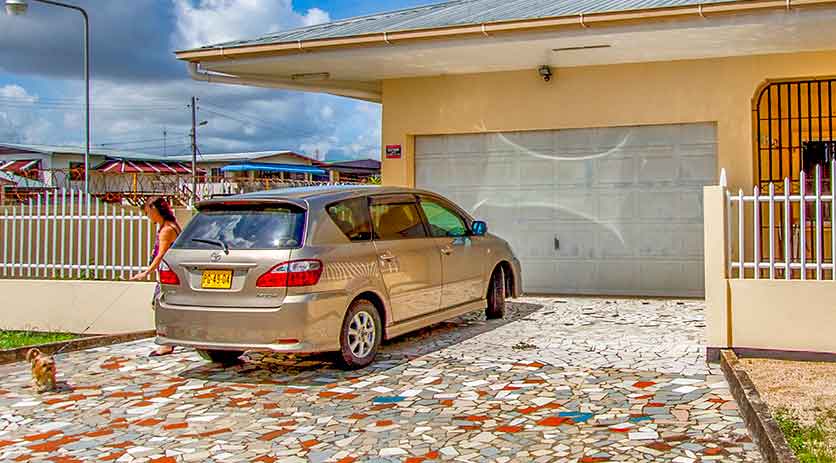 Buying a car
The used and new car market is large generally imported from Japan. when you buy a car insurance and a tank of petrol is included. For driving to the inland of Suriname a 4 wheel drive car is recommended.
---
---
Insurance
By Law al cars in Suriname a minimum insurance WAM (third party liability motor vehicles) is required.
Buying a car from a dealer
If you buy a car at a car dealer then you have to negotiate about the the purchase price and  accessories. Also make sure that on delivery a full tank of petrol and one year WAM (third party liability motor insurance) is included.
Buying from a private person
If you buy a car from a private seller make sure that:
Receive a form stated that you are the new owner of the car.
That the form is provided with the necessary adhesive stamps (no post stamp).
That the you and the owner of the car signed the form. Your signature must be on the adhesive seal.
You buy the car in the State it is, if you find any defect after selling the car the seller in not  responsible for these defects. So if you you have little understanding about the technical condition of a car than it is to recommend to take some one with you that does.
---
---
Finance
Car dealers often offer the ability to finance, in most cases you must pay 25% of the value of the car. The rest can be financed through the dealer or a bank. Please note that interest you pay will be at lease 1% per month on the outstanding balance. For a financing you can also go to one of the local banks.
Road tax
In Suriname you don't pay road tax paid this is included the petrol price.
Fuel
Fuel prices are linked to the world market and payment per shipment. When there are rumors  that the price of fuel goes up then no one will sell fuel until new prices are official.  The price of fuel used to be low but now these days its almost the same or higher then country's in Europe.
---
---
Renting a car
When you're on holiday in Suriname you can rent a car at a official rental company or one of the many individual. Prices at these individuals are lower than the official rental companies. You can rent a car for from 15 euro per day, please keep in mind that when you rent a car from a private person that most of the times you don't have any insurance. Also when you rent a car you must pay a deposit which can be pretty high.